Deutsche Version | English Version
At some point, all of us have already been there: You prepare an external poll or survey, f. e. Mentimeter, to use within your online room and set up everything, making sure to have the link at hand. When starting the poll, you paste the link into the chat window and boom – there are the reactions you don't want to get: "I can't get there", "The link doesn't work" etc.
Now you're hustling to find the correct link. Somehow, you mistakenly copied the wrong link; one or more characters are missing from a long link string, or other reasons have caused the problem.
Therefore, I often use QR codes to send participants to the external tool. Many of them use their smartphone and scan the code to participate. However, you need to make sure the chosen tool can be used via smartphone.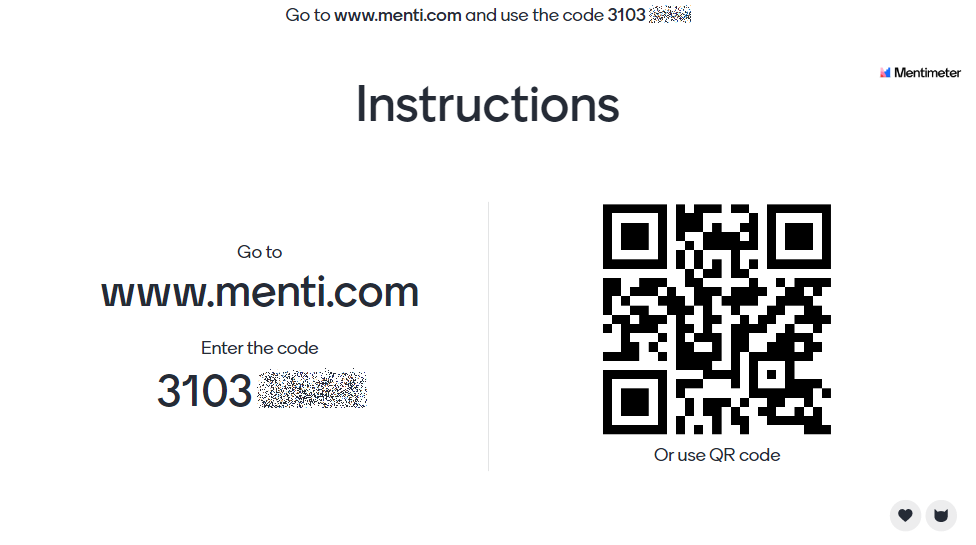 Embedding External Polls
Much easier than sending participants to external links is using those polls right within your online room. Whenever you ask your attendees to switch to another window or app, you might lose them, depending on their digital competencies.
Thus, video conference systems like Zoom and Webex have started offering to embed external tools as apps. You can do this in Adobe Connect as well and don't even need to ask your IT administrator for help.
Using the InFrame Pod in Adobe Connect
Adobe Connect allows you to offer attendees to directly interact with websites. The new free custom InFrame pod embeds website content, similar to working with iframes in HTML. I have already published a blog post on how you can design interactive lobby and waiting times using this custom pod. In this post, we'll be looking at how to embed external polls.
When it comes to those, they fall into two categories. By default, the input fields will be viewed non-synchronized. Thus, participants will only view their own input. Only a few tools, however, can show the results window synchronized to all attendees within an InFrame pod.
Call up input fields as well as results within their own InFrame pods in Adobe Connect, results will be synchronized for all attendees.
Call up input fields within an InFrame pod and present the website, showing the results, via screen sharing using a share pod.
So far, I've been able to successfully test these tools with the InFrame pod:
Group:
Group:
All tools except for BitteFeedback (FeedbackPlease) require registration to use them. BitteFeedback is an open feedback tool offered by Nele Hirsch that you can use anonymously.
Overview And Examples
Please check this presentation for details on how to use external polls within Adobe Connect and example screenshots of the tools mentioned above.
Set up a layout with the free InFrame Pod in Adobe Connect and test your favorite tool. Just download the ZIP file and upload it to a share pod in Adobe Connect.
You can download the list and instructions as an H5P element, add it to your website or intranet, or choose to embed it.
The InFrame Pod can embed some interactive websites and synchronize the view with participants in Adobe Connect. In an upcoming blog posting, I'll show you, which sites I have successfully tested and used for online collaboration.
Disclaimer: I am not employed by Adobe, but I'm using a paid version of Adobe Connect, working as a freelance online trainer and facilitator.
License: The contents of this blog posting are licensed as CC BY 4.0. When using the contents, please refer to the author: Susanne Plaumann (1StepTo), licensed under: CC BY 4.0.
Images: head graphic by ©Dilok – stock.adobe.com, Adobe product screenshots reprinted with permission from Adobe.